Your Reliable and Industry-trusted
SMART SOLAR POWER OPTIMIZER MANUFACTURER
Mitigate Power Loss of Your PV System High Efficiently and extend Service Life of PV Module.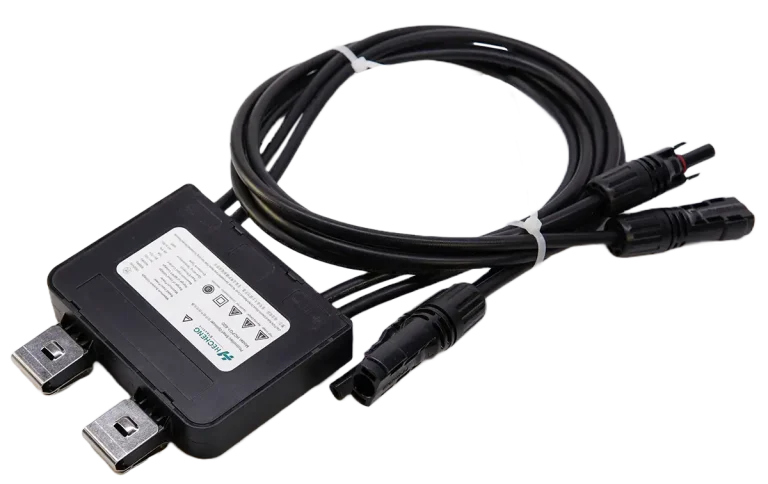 panel-level PV OPTIMIZER MANUFACTURER
Include a 25 years design life work perfectly to increase power (3.8%~25.7%) and optimize PV array performance so as to shorten the ROI period.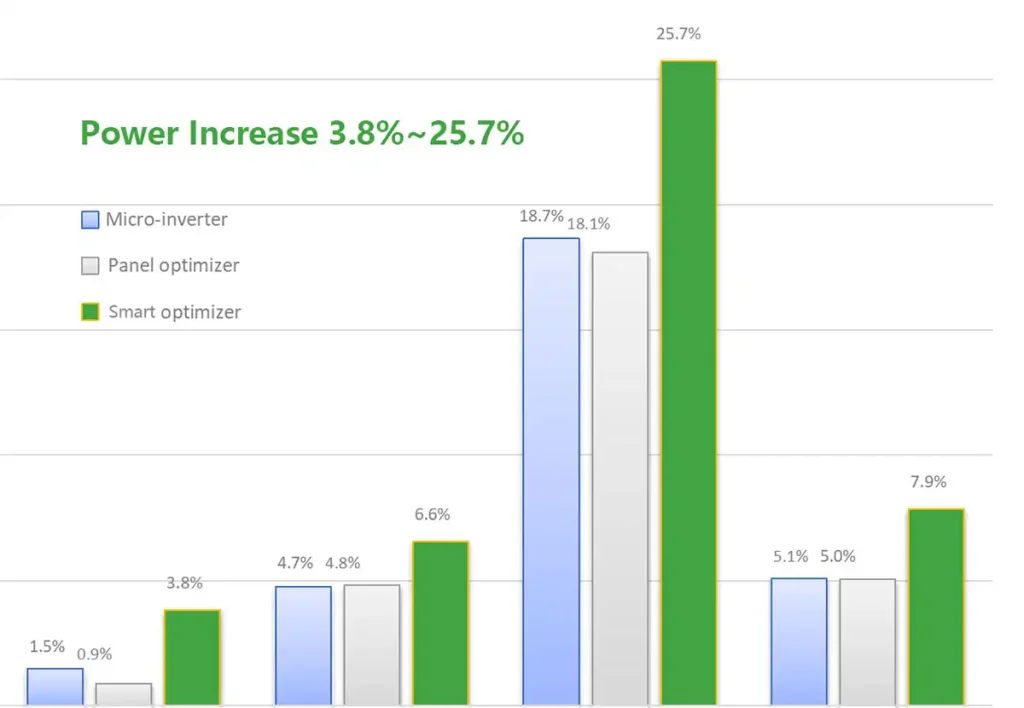 PV Module MPPT External Optimizer 460W
PV Module MPPT External Optimizer 600W
Smart Solar Power Optimizer HS4-A-O
Features of Smart Solar Power Optimizer
99.5% peak conversion efficiency

Applied to all types of module mis-match loss



Maximum input power: 800Wp
Withstand extreme conditions under -40℃-85℃
Certification: TUV
Hiitio solar optimizers can be used to solve the current mismatch issues caused by shading arising from the shadow, snow remnants, dust deposits, fallen leaves, bird droppings and weather, etc. for solar panel installation to optimize the power output from each solar panel individually.
Solar Panels Are Partially or Fully Shaded at Certain Times. If one panel in a solar system is shaded, energy production is significantly affected. So, if you constantly experience even partial shading, you should seriously consider solar optimisers. These optimisers will ensure that unshaded panels operate optimally while also providing the best possible power output from the shaded panel.
Large scale PV station
Distributed Generation
Unevenness caused by snow and snow remnants and icing
Ununiformity lead to current mismatch even hotspot
Shading from leaves that are not cleared in time
Easily meet your most complex project layouts by placing Power Optimizers at multiple orientations, tilts and on different panel types in the same string using Maximum Power Point Tracking.
With Australia located in the southern hemisphere, the sun's direction moves towards the north.
Thus, north-facing solar panels deliver the best output. East and west-facing panels will reduce output by 10 – 20%, while north-facing panels can reduce output by roughly 28%.
That said, if your complicated roof causes your solar panels to face different directions, you will certainly benefit from optimisers, as they can maximise the output of your panels.
The angle of sunlight varies throughout the day.
i.e. east panels in series with
West: +12% energy increase
i.e. 10°panels in series with 25°panels: +1.6% energy increase
Strings of different facing and more modules
Based on power optimization chip, HITTIO anti-hot spot panel-level optimizers are safer and reliable that can be used to mitigate all types of panel mis-match loss from shading, aging to orientation difference, dust and snow accumulation etc. so as to maxmize the energy output of your roof-top and ground mount PV system and extend the service life of PV modules.
After years of dedicated efforts and accumulation, we have acquired a group of loyal customers. They are spread across the globe, spanning multiple continents. We are immensely proud to be their trusted PV optimizer supplier.
Would you like to receive a detailed quotation based on your specific requirements?  Or if you have any questions, please feel free to contact us, and our sales representatives and technical experts will respond within 24 hours.